A sparkling little gem
Fuerstenfeldbruck, Germany, 01.25.2011 - "Rosebud" is one of the best kept secrets in the history of film. In "Citizen Kane", one of the greatest films of the 20th century, Orson Wells has his main character, a major American newspaper publisher, utter this cryptic word on his deathbed, creating a sense of mystery and tension that carries through the entire film, contributing to its extraordinary depth. Geoff Goodman, the American guitarist who has made Munich his home, calls one of his musical projects "Rosebud". Their performance in Fuerstenfeldbruck on Friday conveyed the sort of poetic depth and coherence that one seldom has a chance to experience. With Rosebud, Goodman has made the roots of modern American popular music his theme. His comprehensive understanding of this music allows Goodman and group to cleverly weave through folk, blues, bluegrass, gospel and jazz without diffusing the various styles into some sort of bland crossover music with a mainstream attitude. By using a lineup of saxophone (Till Martin), trombone (Johannes Herrlich), voice (Beate Sampson), and guitar, Goodman has already broken every musical convention, and by doing so has created an original sound that is in a class of its own. The Newport Folk Festival is the trailhead for Goodman's musical wanderings through the history of contemporary music. Organized by legendary folksinger-activist Pete Seeger, the festival first took place in 1959. The artists that performed at Newport were the catalysts for many of the major influences in the development of popular music.
Music with Depth and Poetry
Often playing banjo as well as guitar, Goodman has put together terrific arrangements of songs from Josh Thomas, Son House, Elizabeth "Libba" Cotton, and Bob Dylan. In Beate Simpson, Rosebud possesses a singer with a clear, perfectly intoned voice. She brings character to even the brashest songs, strengthens their content with her original approach, and, regardless of whether the interpretation is delivered with a certain lasciviousness or a folkloric freshness, imparts a sense of believability. Till Martin and Johannes Herrlich color the pieces with warm, elongated lines. Bedded in a deep-toned stream, they surface again and again, launching into short solo cascades. Their class shines through in Gospel-like interchanges and disciplined unison passages, and indicates that restraint requires a degree of grandeur. In his play, Goodman is a constantly morphing personality. He also controls the spiritual depth in the accompaniment, and his dynamic solo play is bursting with intensity. Yet, for the most part, he smartly stays in the background, concentrating on the group concept and the level of musical communication. In this way he is able to insert his inner self into the pieces, bringing the archaic magic of these decades-old songs to life and transporting them to the present day and age. This all transforms Rosebud into a small, sparkling gem that compatibly combines past and present.
Old songs in contemporary garb
Rosebud's Newport Project at Birdland Jazzclub
Geoff Goodman is an especially unconventional musician. He stands outside the mainstream perfectly content with the (over)view. When someone oscillates between the jazz avant-garde, a skewed form of old-time jazz, Tabla and Strings, Greek folklore, American cowboy songs, folk, country, and blues, it can all so easily end in chaos; or, as is the case with Goodman's Rosebud, a creative alchemy.
For example: In the Son House blues "Death Letter", a banjo, one of the most American of instruments, flows through the lyrics describing life's missed opportunities with a solo clearly inspired by Mid-Eastern music. At the same time, Goodman sets up the search for his own musical roots within a contemporary context that can even merge into the political, as when the gospel "Down by the Riverside" is programmatically prefaced by the line "ain't gonna study war no more…", or in "Deadline Blues" with its direct musical allusions to the violent conflict in the Mideast.
The music from the Newport Festivals of the early 1960s is the central focal point of the evening. This music had a good deal to do with the politicization of the young people of that era. At times this recollection corresponds to the arduous attempt to remember the relevant (valid), lasting, truths within these turbulent times. In this context, the unusual instrumentation of trombone, saxophone, voice, and guitar makes sense. The inertia and movement, effort and headway, fluency and stamina merge into delightfully abrasive tonal colorations. Bob Dylan's "Maggie's Farm" is defragmented by a heavy, trippy electric guitar, while moments later Goodman's instrumental piece "Newport 1965" onomatopoeticly describes the tremendous uproar that accompanied this paradigm change in American pop music.
With a lot of love and empathy, Geoff Goodman, guitar and banjo, Johannes Herrlich, trombone, and Till Martin, saxophone, give themselves up to these old songs. With her persuasive vocals, singer Beate Sampson convincingly commandeers the rolls of plaintive farm hand, blues medium, voodoo priestess, psychedelic Fata Morgana, lullaby mama, blood-thirsty lover; "Pretty Polly" and "Darling Cora". …Rosebud plays Newport is a truly heady project.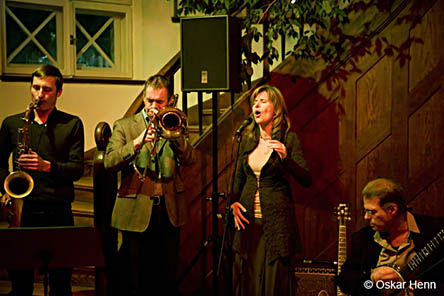 BALI JAZZ
Neubeurg Jazzkeller hosted an unusual musical lineup – Rosebud, featuring Beate Samson. American guitarist Geoff Goodman, who now lives in Munich, Germany, is the head of the group, and also plays banjo here. Saxophonist Till Martin and trombonist Johannes Herrlich coalesce to create a perfect body of sound. Their teamwork is so precise that it sometimes gives the impression that they breathe with one breath. And right in the thick of things, Beate Sampson, an impassioned singer with a powerful voice, whose singing transported the listeners into a trance-like state. From the start, it was clearly to be an evening of American folk and blues – and I asked myself – what about jazz? The question was superfluous. From the first tone to the last, the four musicians' ingenious symbiosis of styles thrilled the guests from the first tone to the last. Absolutely fantastic!