ROSEBUD PLAYS THE MUSIC OF NEWPORT

Rosebud Plays the Music of the Newport Folk Festival is an ingenious reworking of songs from the American folk and blues traditions, a harmonic, melodic, improvised remoulding of those traditions into a more modern mythos. The songs are often violent and tragic, relying heavily on straight-forward lyrics chronicling the bitter-sweet life experiences of the generations of European immigrants and former slaves who have worked out their destinies in the coal mines, farms, and small towns ranging from Appalachia, through the Mississippi Delta, the Ozarks, the Texas Panhandle, and beyond. Rosebud plays out folk tales that include the rape and murder of a young innocent, a mother's grief for her three dead children, and a man's sense of desolation on learning of his lover's death; but there is also a tender lullaby, a song of a child yearning for the escape and adventure of destinations unknown, and the stream-of-consciousness monologue of a banjo-playing drifter.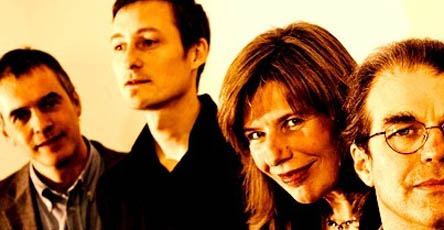 NEWPORT FOLK FESTIVAL 1960-65
Folk is the music's heartbeat; diversity and innovation is Rosebud's lifeblood. Solos and duos and trios in every combination; dynamics ranging from delicate simplicity to muscular polyphony - Rosebud has somehow found a way to create an incredibly expansive sound out of two horns, voice, and guitar or banjo. The genius of this music is that it shines a new light on the folk tradition, augmenting and at times transforming it. Perhaps more to the point; Rosebud Plays the Music of Newport is simply a joy to listen to.
Marty Cook - from the liner notes "Rosebud Plays the Music of Newport"
The Newport Folk Festival was founded 1959 by a small group of people including Pete Seeger and George Wein (founder of the already well established Newport Jazz Festival) .The first years were crucial in moulding its concept and ideology. Folk was a blossoming form in those days - the festival encompassed many aspects of "folk music"- bluegrass, gospel and spiritual, ethnic singers and dancers. Newport became famous for introducing new artists, many of whose careers catapulted out of those festival days, and eventually sky-rocketed into international acclaim. Joan Baez, Peter, Paul and Mary and especially Bob Dylan, who first appeared in 1963, were all artists who became associated with Newport. Another important aspect associated with the festival was the 1960s Blues Revival; many legendary artists who had disappeared into obscurity in the1940s were rediscovered through their appearances at Newport. These artists included Mississippi John Hurt, Skip James, Elizabeth Cotten, Son House and many others, who from the early 60s on became Festival regulars.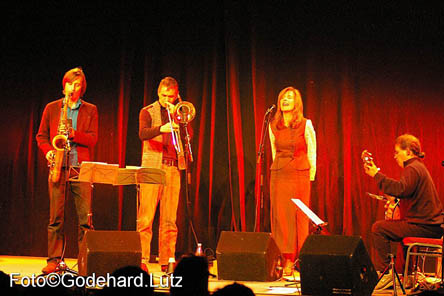 By 1965 folk music's audience become a marketable commodity; the music enjoyed growing popularity on television, in the press and even on Top Ten radio. Correspondingly, as the artists became more celebrated, the festival grew in attendance. Bob Dylan had become an icon for the folk music world and Newport. In July 1965 Dylan, accompanied by members of the Paul Butterfield Blues Band, walked on stage for his highlighted Sunday night appearance, and proceeded to shock and rock the folk world by going electric. The audience's, as well as his artistic peers' hostile reaction (Pete Seeger wanted to pull the plug), marked a shift in Dylan's direction from folk to rock. This would have a major influence on folk music's future styles and direction.

Rosebud was formed 5 years ago under the motto "plays jazz, film music and cowboy songs". In 2004 their CD was released under the same title. For 2007, the Trio has developed a new concept and program. With the addition of Beate Sampson on vocals, the trio is now dedicating its sound to the music of Newport in its formative years, 1960-65. Through improvisation, re-harmonization, rhythmic alterations, as well as the application of this unusual formation, an exciting new handling and approach to these old blues, folk songs and melodies is born.
Rosebud's New Program — 2013
Haunted House Blues
It's all about love, sex, loneliness and alcohol, misdeeds, revenge and atonement. It is also about pleasure, a lust for life, and protest. All of these passions are ingredients in the songs from Bessie Smith, Jelly Roll Morton, and Fats Waller.
These blues and ragtime icons have created powerful music, sometimes conveying a deep sadness, sometimes the best of party moods, dancing on the edge – just the right sort of music for Rosebud, that quartet with its unusual instrumentation lined up around guitarist, banjo player, composer, and arranger Geoff Goodman. With his previous program and CD "Rosewood Plays the Music of Newport", Goodman has already demonstrated how imaginative, sensitive and insightful the early forms of jazz and the roots of modern American popular music can be. Their new program, "Haunted house Blues", salutes the strength and intensity of the songs. At the same time, Rosebud's personal sound and imprint adds new depths and dimensions.
Rosebud's interpretations get under your skin; they sound new and surprising, yet they always stay true to the essence and directness of the original.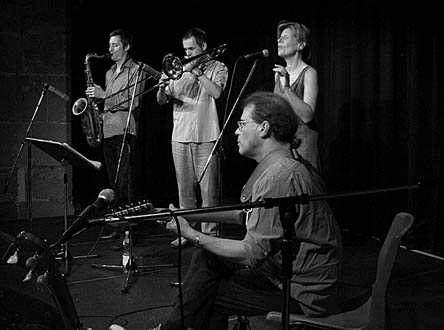 THE BAND
Geoff Goodman
Geoff Goodman was born in 1956 in New York City. He studied music at Boston University and the University of Massachusetts. Goodman's jazz teachers include John Abercrombie, Archie Shepp, and Vishnu Wood. In 1979, he began his travels throughout Europe, eventually settling in Germany. Goodman has played with Charlie Mariano, Mal Waldron, Chris Hirson, Tony Lakatos, Nicolas Simion, Ed Schuller, Larry Porter, Allan Praskin, Bill Elgart, Marty Cook, Jörn Pfenning, Rudi Mahall, Thomas Zoller, and the ethno music group Embryo. Since 1986, Goodman has been living in Munich, Germany. Along with heading his jazz and world music groups, the "Geoff Goodman Quintet", "Tabla and Strings", "Curiosities of Nature", and the "Hirson-Goodman Duo", Goodman has played numerous concerts throughout Europe (i.e. Leningrad, Istanbul, Warsaw, and Strasburg), as well as touring France, Holland, Poland, Russia, Turkey, Switzerland, and Tunesia. He has performed on radio and TV as well as in major jazz clubs throughout Europe. Goodman has recorded 15 CDs as bandleader and composer. Since 1990 he has taught guitar, music theory, and jazz workshops at Freies Musikzentrum Jazz Project in Munich. In 2011 Goodman received the prestigious Munich Music Award.
Johannes Herrlich
Born in 1963 in Bielefeld, Germany, Herrlich studied Jazz at the Music Conservatory in Graz, Austria, and at the Conservatory of Fine Arts in Amsterdam, where he studied with Erich Kleinschuster, Bart van Lier, et al. His own projects include the Johannes Herrlich Quintet, formed in 1993, and leading the 4-trombone group "Trombone Fire" from 1999 to 2006. He has worked with the renowned Al Porcino Big Band (1993-2007), the Sunday Night Orchestra (1996-2008), the Bobby Burgess Big Band Explosion, the Hi Fly Orchestra, Rosebud, SWR (South West German Radio) Big Band with Max Greger, Paul Kuhn, Hugo Strasser, New York Voices, Jo Kraus, Rias Big Band Berlin with Jim McNeely, Nana Mouskouri, Gansch & Roses, and Kent Langthaler 7. Since 1995 he has been a teacher with the Bavarian Youth Jazz Orchestra. From 2000 to 2007 Herrlich directed the big band at the University of Ulm in Germany. 2004/05 Herrlich taught trombone at the Franz Liszt Conservatory in Weimar. Since 2007 he has been a teacher at the Music Conservatory of Vienna University, and has been teaching at the Conservatory for Music and Theater in Munich since 2008. Herrlich has participated on numerous CD recordings, both as leader and sideman, and has played at Jazz festivals in Burghausen (Germany), Rabat Morocco, Bolzano (Italy), Munich, Stuttgart, Arnstadt (Germany), and Jazz Baltica.
Till Martin
Born in 1968 in Munich, Germany, Martin began to play saxophone at the age of 14 after listening to the legendary "Jazz at Massey Hall" album featuring Charlie Parker. From 1991 through 1993 he was a member of the Bundesjugendjazzorchester (German National Youth Jazz Orchestra). From 1990 through 1995 Martin studied music under Ferdinand Povel at the Hilversum Conservatory (Holland). Martin traveled to New York, Boston, and Chicago to further his musical studies. He received the award for "Outstanding Musician" at the International Association for Jazz Education (IAJE) meetings in Boston and Maastricht, Holland. Since 1997 Till Martin has been composing music for documentaries and short films. He has worked as a studio musician for TV, films, and CD productions as well as productions for Bavarian Radio and West German Radio. Martin has made six CDs as bandleader and composer and has won the German Record Critic's Award. He has formed his own label "petit paquet records", and was nominated for the New German Jazz Prize in 2007. Since 2003 Till Martin has taught theory, ear training, rhythm, and saxophone at the Freies Musikzentrum (FMZ) in Munich, has conducted workshops at the music academies in Hammelburg and Marktoberdorf, Germany, and heads a summer course at the FMZ. Martin has had the pleasure of working with Clark Terry, Benny Bailey, Conte Candoli, Harold Land, Pete York, Ed Schuller, Jim Pepper, Dusko Goykovich, Herb Geller, Valery Ponomarev, Fadia El´Hage, Anna Lauvergnac, Al Porcino, Ensemble Sarband, the Modern String Quartet, Harald Rüschenbaum, John Marshall, Adrian Mears, Peter O´Mara, Jesse van Ruller, Peter Herbolzheimer, Roberto Di Goia, and Kenny Wheeler, et al. Martin has performed in the USA, Russia, Asia, as well as throughout Europe. He has performed at the Styriarte Festival in Graz, Austria, the Morganland Festival in Osnabruck, Germany, the Singapore Arts Festival, the Mo´Vibes Festival, the European Jazz Festival in Elmau, Germany, and has performed outside Germany at the behest of the German Music Council of the Goethe Institute.
Beate Sampson
As a teenager under her maiden name Beate Krause, Sampson sang lyrical, slightly psychedelic progressive folk-rock with the German band "Carol of Harvest". Their 1978 debut-album has gained cult status over the years. With its music being favorably compared to such legendary Irish progressive folk rock groups as "Clannad", "Mellow Candle", British progressive rock bands "Pentangle" and "Renaissance", and the German symphonic hard rock group "Jane", the album continues to be a unique, much-sought-after gem.
Throughout her singing career, Beate Sampson has worked in various musical venues. She was lead singer in the pop bands "Joker, and "Cosmic Dance Club". After studies at the Hamburg conservatory she began to focus on jazz. Sampson has toured and recorded with New Zealand keyboardist and composer Trevor Coleman, the German vocal group "Nada", her own quartet "Straight Talk", and worked long-term with the musical comedy act "Trillergirls". She also works as a radio-host and producer for the Bavarian Radio BR-KLASSIK jazz programs.
The critics have described her voice as "haunting", "soulful", and "lending wings to the soul".